Welcome to Santa Fe Animal Clinic
Your Encinitas Veterinarian
Call us at 760-753-6512
Email us at: SantaFeAnimal@Yahoo.com

Pet Emergency? Read no further and call us right away!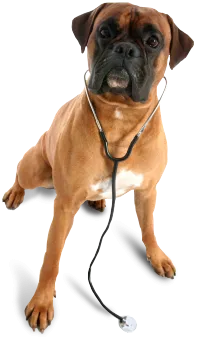 If you are looking for an Encinitas veterinarian or in greater San Diego area, then you have come to the perfect site. Owner, Rei Tanaka is a licensed Encinitas veterinarian, treating cats and dogs. Your pet's health and well being is very important to us and we will take every step to give your pet the best possible care.
Santa Fe Animal Clinic is a full service Encinitas animal hospital and will take both emergency cases as well as less urgent medical, surgical, and dental cases. Your Encinitas veterinarian - Dr Tanaka is a graduate of UC Davis and has over 15 years of experience in emergency, internal medicine, allergy, and geriatric care. Beyond first rate pet care, we make our Encinitas animal hospital comfortable, kid-friendly, and a very calm environment so your pet can relax in the waiting room and look forward to meeting his or her own Encinitas veterinarian.
We have a number of resources for you to learn about how to take better care of your pets. Follow us on social media or subscribe to our newsletter to stay in-the-know from your best Encinitas animal hospital. If you have any questions, please call 760-753-6512 or email us and we'll promptly get back to you! Our Encinitas animal hospital is conveniently located across from Scripps Encinitas Hospital, west of the I-5.
At Santa Fe Animal Clinic, we treat your pets like our own.
Dr. Rei Tanaka
Encinitas Veterinarian | Santa Fe Animal Clinic | 760-753-6512
301 Santa Fe Dr, STE A
Encinitas, CA 92024